CAFE BENEFITS
Help customers wait less in line.
With a branded mobile App, your customers can order their favorite coffees ahead and jump the queue and wait less in line while you can server more customers with less time.
Bundle

End-to-end complete ordering solution for cafes.

Out of personal preference, many customers enjoy visiting their local café for the experience, but perhaps they don't enjoy waiting in line.

Eatsapp provides your café the platform to cater to those busy Australians who crave café style food from their office.

Website

Awesome, easy to use website ordering system.

We can design your website, purchase your domain name and install Eatsapp on your website.

This will give your customers the flexibility to order directly from your website.

Apps

Get your own branded App for iPhone & Android.

Nowadays, customers can download Apps which connects them to different cafes. The question remains, what is your benefit?

With your own branded app you gain full access over customer details, send them push messages of promotions and much more.
Go online in 3 steps.
1
Create an Eatsapp account
You must create an Eatsapp account for your restaurant, we need information such as: location, contact details and opening hours.
2
Send us your menu
If you already have an online ordering website, send us the link and we will do the rest. Otherwise, you can email us a PDF or Word version of your menu.
3
Install Eatsapp Store
Eatsapp Store is the application we use to download all online orders generated from your website or Apps. It works on iPhone and Android and is easy to use.
Get started for free
You can contact us if you have questions or need help along the way.
Enrich your brand with your own app.
Add value to your brand, get your own branded iPhone and Android App. Your customers can accumulate points and use them towards their next purchases.
learn more
Pricing
Pricing plans for cafes & coffee shops.
Starter
Install a web ordering system on your website, pay 4.95% commission per order.
$29
AUD / location / month
Start Free Trial
Web
Web ordering platform.

Free menu setup.

24/7 Online Support.
Recommended
Standard
Website ordering, branded apps, 4.95% commission per order + Premium Support.
$68
AUD / location / month
Start Free Trial
Web
Web ordering platform.

Free menu setup.

24/7 Premium Support.
Apps
Get your own branded iPhone & Android Apps.

Send unlimited Free push messages.

Free updates & Upgrades.
Download online orders
Your online orders originated from your website or apps will be sent to Eatsapp store, a simple application that works on iPhone and Android.
From there, you accept, view order and set as "ready" once done.
Download Eatsapp Store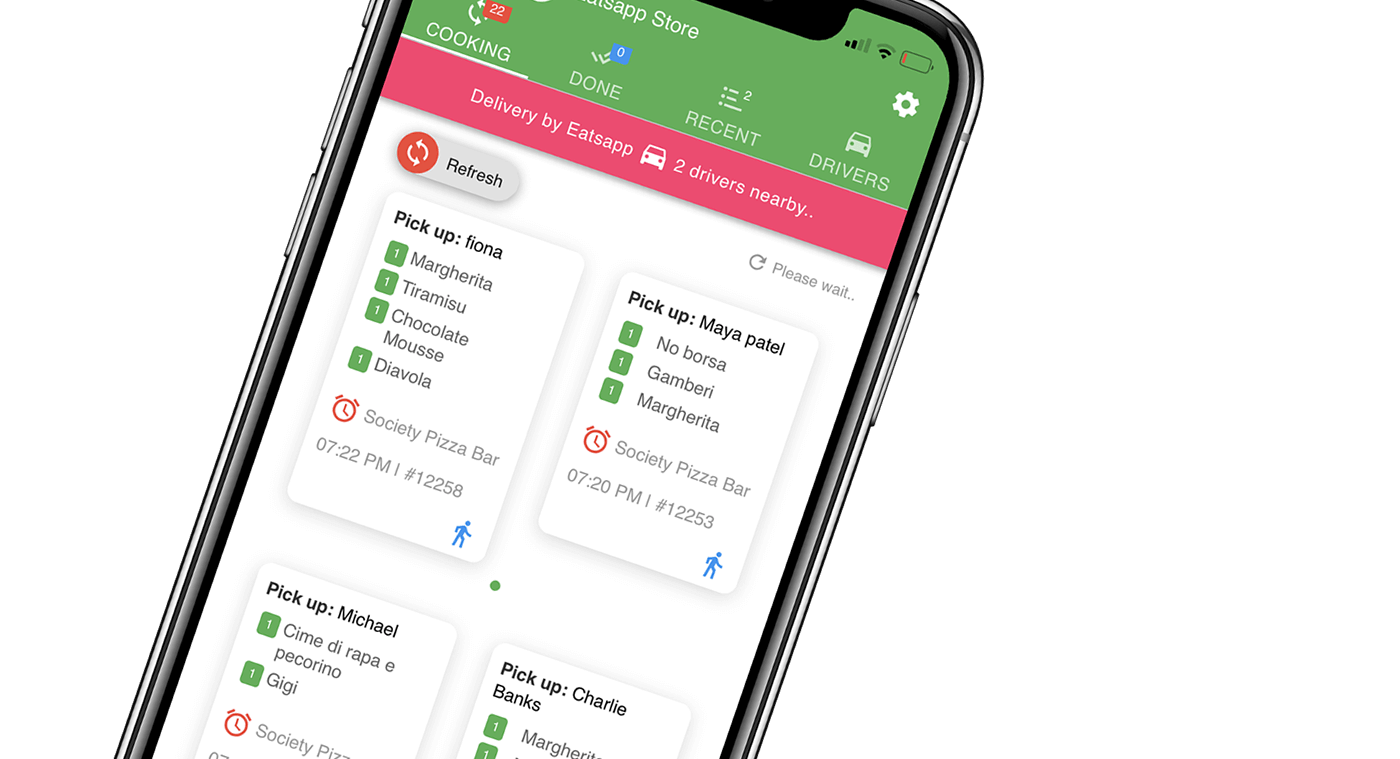 Eatsapp is perfect for cafes
We have designed Eatsapp with cafes in mind. Eatsapp increases your online sales by allowing you to send push messages to your customers with new offers and promotions.
Questions? Call us
Let us help you increase your daily sales.
Get in touch.
Give us a call or send us a message and we will get in touch with you in the next few hours.
Contact Us
Sign up online
Get started in a few simple steps which can be done online now and will only take 2 minutes to complete.
Sign up now